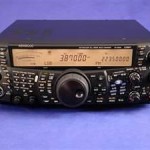 Kenwood has discontinued the MC-57DM microphone for the Kenwood TS-2000;  I found the Alinco Microphone (EMS-57) to be a almost full-function replacement (same connector pinout).  The DTMF, UP/DOWN buttons, PTT, and Mic work the same, the exception being that the Function keys are not recognized.
This is a start – suggestions for a better replacement offering 100% compatibility or modifications to this Mic are welcomed in the comments section of this page!
NOTE:  The TS-2000 supplies 8 volts on pin 5 while the EMS-57 requires 5 volts on pin 5.  You assume all risks using this Mic.
MC-57DM Microphone
Alinco EMS-57